Nakikiramay Sympathy Gift Set: Grief Journal and Mourning Heart Cards
Regular price
₱1,199.00 PHP
Regular price
Sale price
₱1,199.00 PHP
Unit price
per
Sale
Sold out
Give the most thoughtful gift to your grieving loved one and make them feel seen, heard, and loved with the Nakikiramay Sympathy Gift Set. This gift set includes:
✔ The best-selling Dalamhati Guided Grief Journal
✔ The My Mourning Heart Card Deck
✔ A calming scented candle
With the grief journal and the grief comfort card deck, you can help your grieving loved one cope with the pain of grief. The free calming scented candle adds a nice touch to help them relax and unwind.
PS: For every purchase, 5% of the total profit will be donated to a close friend of ours who is going through treatment for lupus, an auto-immune disease. Thank you all so much for your help!
Specifications

Dimenions: 5.5" W x 8.25" H x 1" D
Paper: 100 GSM
Cover: Plastic laminated hardbound
Page Number: 159 pages
Shipping Info

ESTIMATED TIME OF ARRIVAL

2-3 Days in Metro Manila
4-5 Days Outside Metro Manila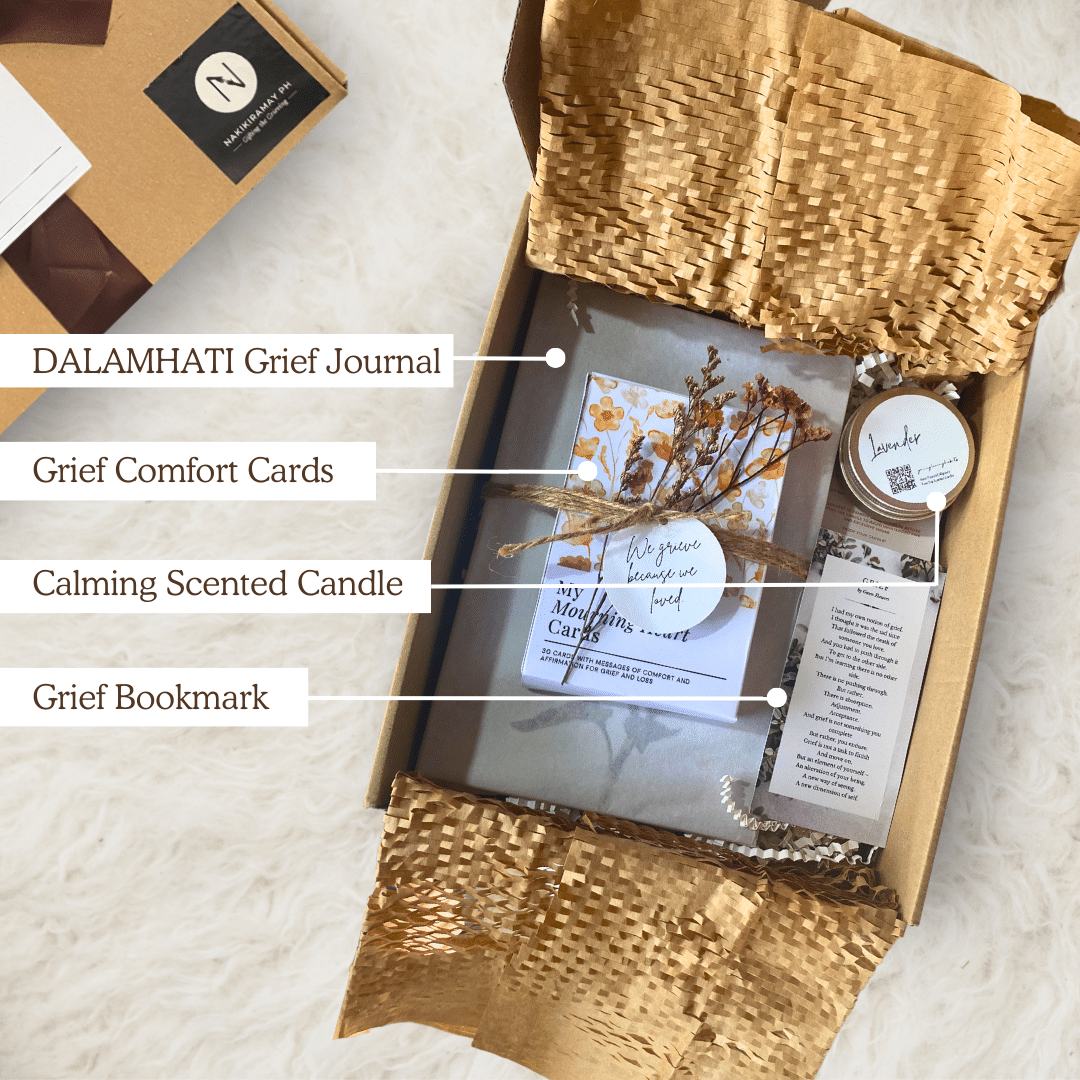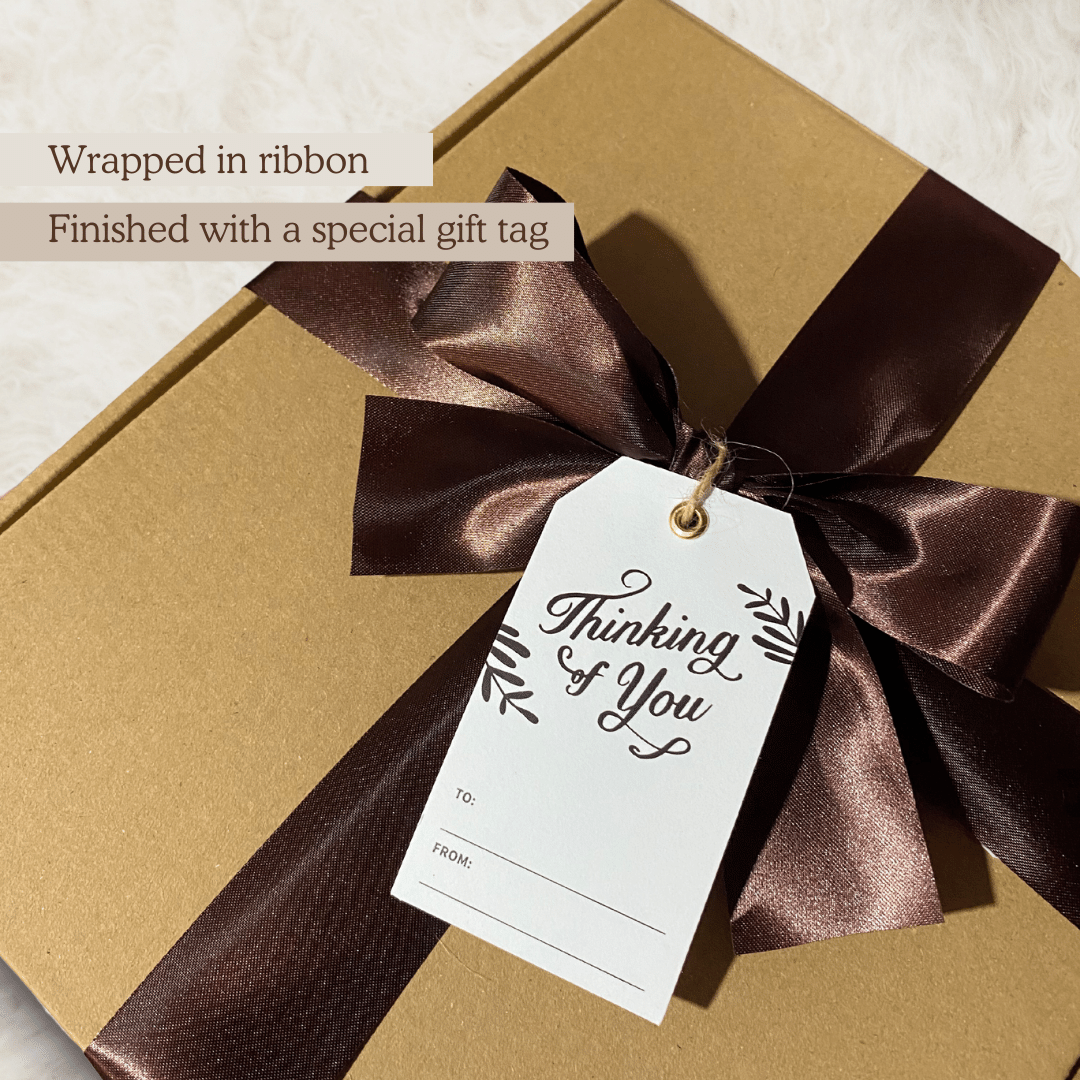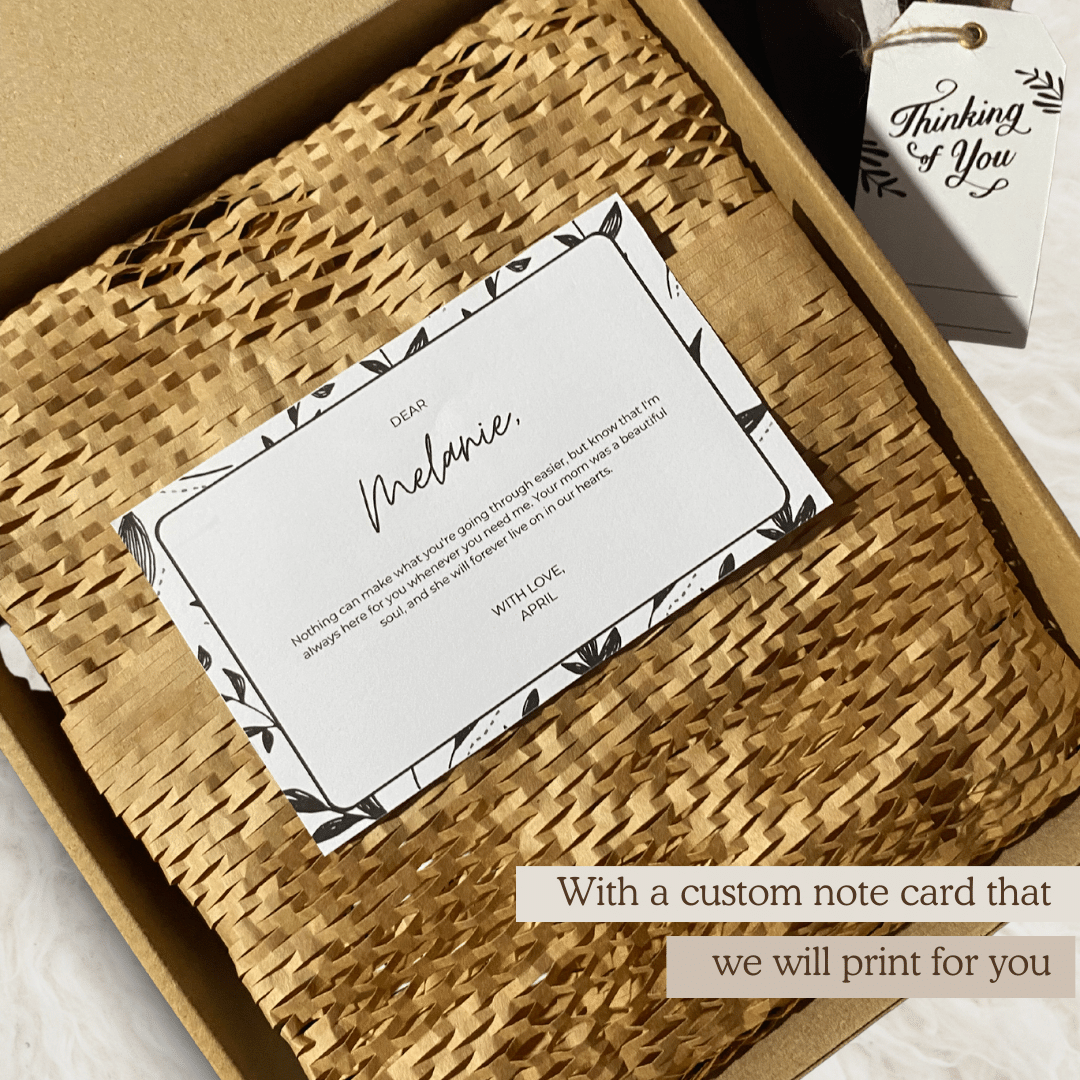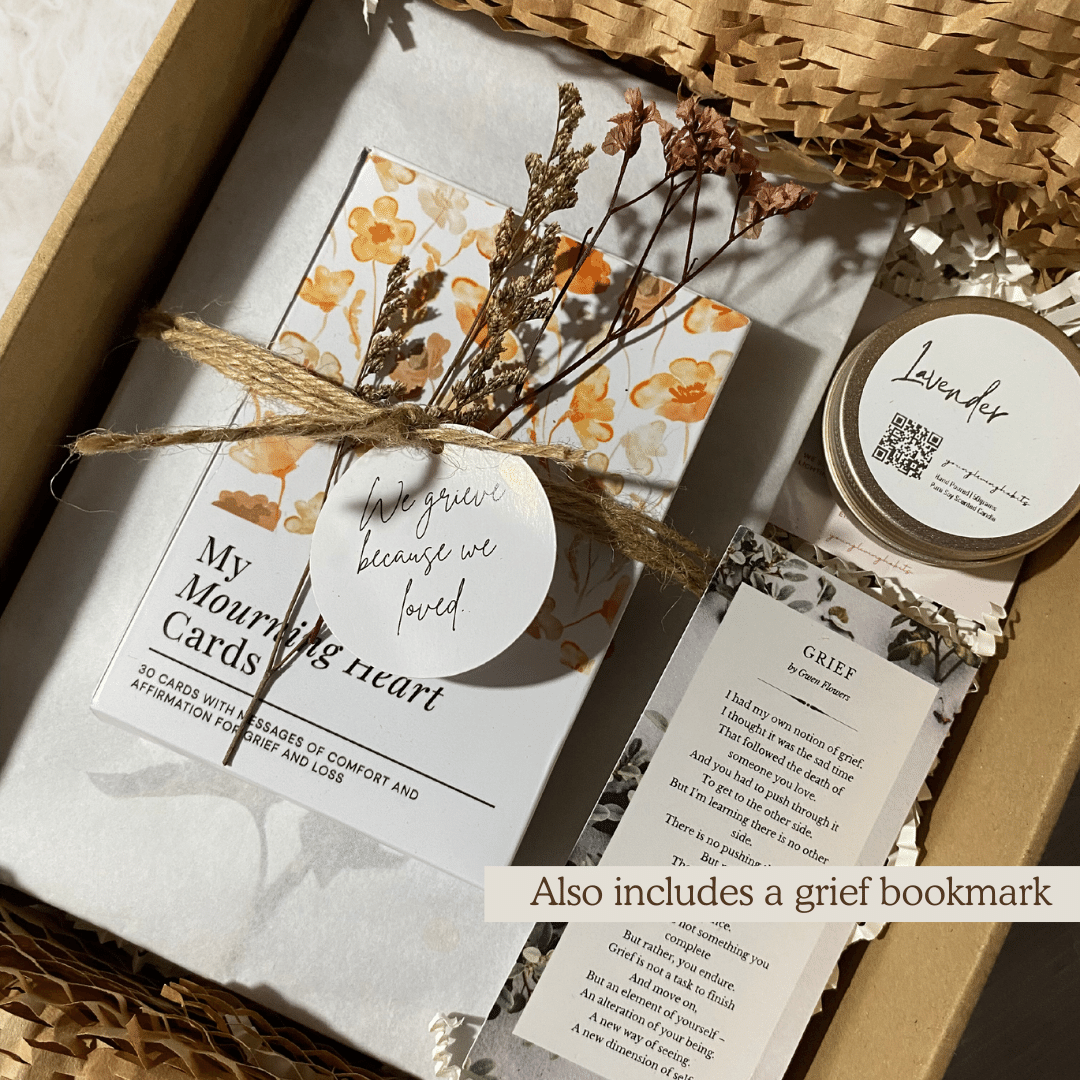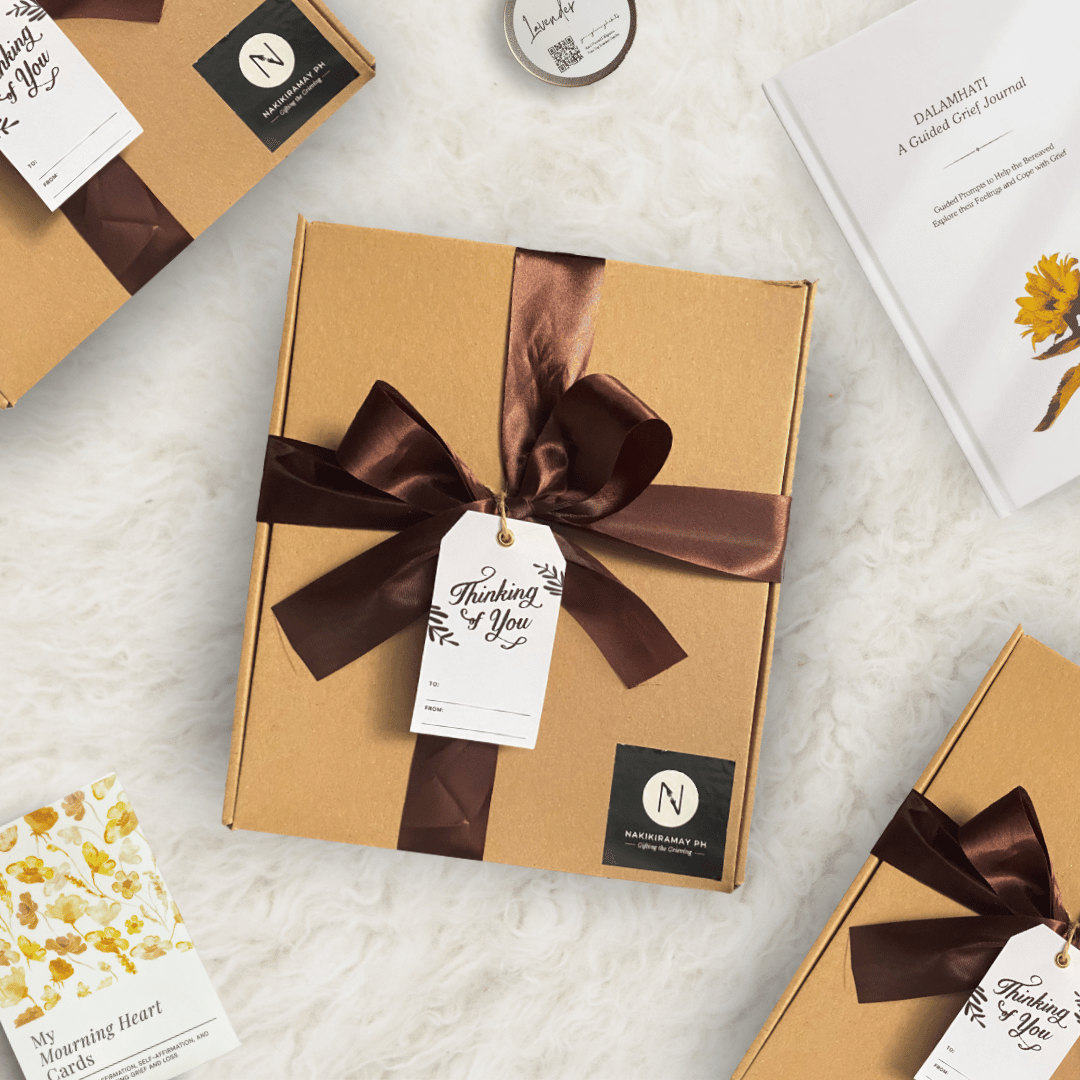 WHAT'S INSIDE THE GIFT SET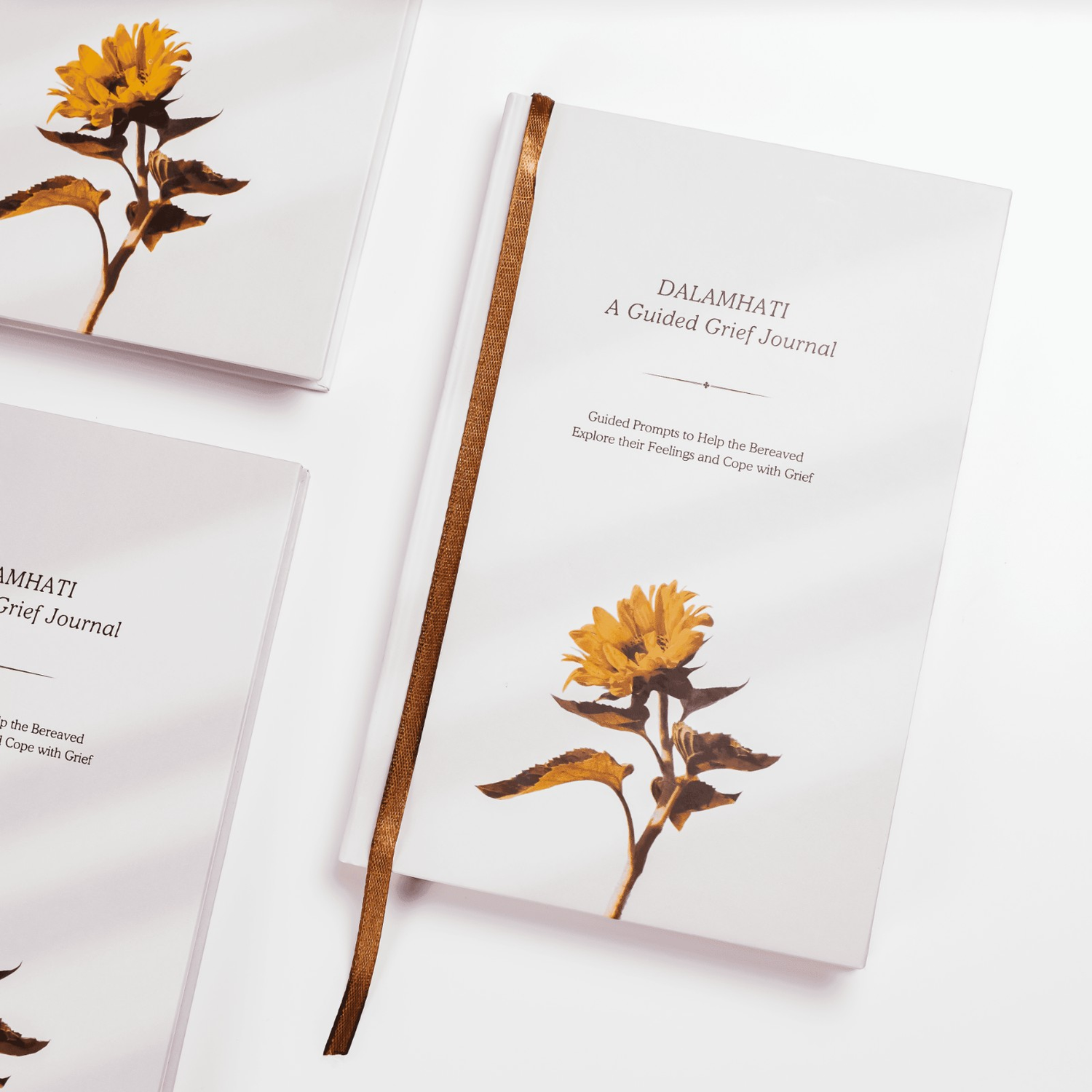 DALAMHATI: GUIDED GRIEF JOURNAL
The DALAMHATI Grief Journal is a tool that can help the bereaved navigate grief. It is designed to help users learn more about grief, process how they feel, and cope with grief one journal entry at a time.

👉With spaces for writing letters to the departed loved one, remembering them, gratitude journaling, and more.

👉 Durable hardbound cover and ribbon bookmark.
MY MOURNING HEART CARDS
The Mourning Heart Card Deck is a collection of 30 cards with messages of affirmation, self-reflection, and tools for dealing with grief and loss.
👉 Includes 30 cards with affirmation, self-reflection, and tools for dealing with grief and loss. Users can draw a card on a particularly bad day or whenever they need a quick pick-me-up!
👉Small enough to fit in a purse, it's a perfect grief companion any day, anywhere.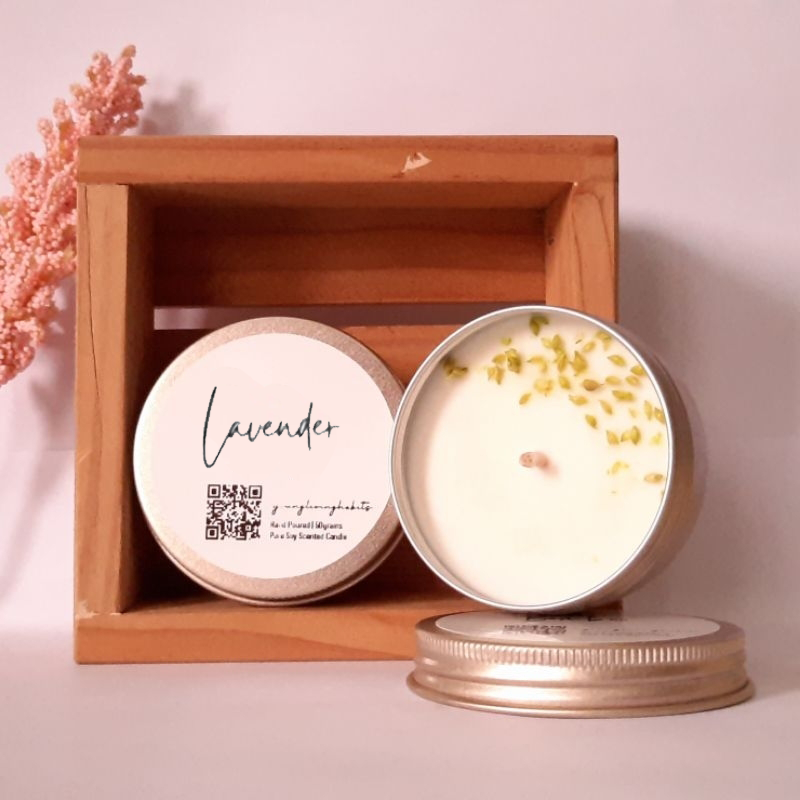 Lavender Scented Candle
Our sense of smell has incredible effects on our mood, energy, and clarity of mind. The smell of this scented candle can stimulate the limbic system, the part of the brain that's connected to memory and mood.
👉 Can boost energy
👉 Ease stress
👉 Clarify the mind
Our grieving loved ones are fighting the hardest fight of their lives. Be the support they need. Listen to them. Give them a hug. Cook them a meal. Give them a meaningful gift.
Years from now, they will never forget who stayed and showed up in their hardest days.
Free Shipping Nationwide

For all orders over Php1100.

We Give Back

5% of our profits go to a non-profit organization of our choice.
Commonly Asked Questions
Who is the grief journal for?

The Dalamhati Grief Journal is designed for everyone who lost a loved one regardless of who, when, and how the loved one died, and regardless of your religious beliefs. 
Why is a dedicated grief journal needed? Can't the bereaved just write on any notebook?

Writing on any blank notebook about how you feel or how your day went is okay if it lets you release your pent-up emotions and clarify your thoughts.

However, for some people, staring at a blank page is intimidating! This is where journal prompts come in. Prompts help you get started in writing about how you feel, gives structure to your journaling journey, ask questions that make you think, and helps avoid rumination on negative thoughts or memories.
Does the journal have blank pages to write on?

Yes! We included lots of writing space so users can write their hearts out. In fact most of the pages of the journal are blank writing spaces.
Should the journal be filled in a specific sequence?

No, there is no right order or sequence to the journal. Users can read the topics and answer the prompts as they like in no particular order.
Does the journal adhere to a specific religious belief?

The journal is written in a way that accommodates all religious beliefs. It suits Roman Catholics, Born Again Christians, Muslims, and any other religion.
Is it gift-ready?

Yes! This gift set comes in pretty packaging that you'll be proud to give.
Do you have a Shopee store?
What is your refund/replacement policy?
Where can I reach you?

Questions? Feedback? We'd love to hear from you! You can reach us in the following channels:

Email: nakikiramayph@gmail.com
Messenger/Instagram: @nakikiramayph
Mobile #: 0953-239-7635
Here's what our customers say:
"I lost my mother two weeks ago. I had been taking care of her for more than 8 years after my father died. This workbook is indeed a needed hand for someone who is still grieving just like me. May this book help me in my grieving process and loss."

"I received my first order yesterday and immediately burst into tears when I opened the package. Just the first few pages alone really spoke to me. And I knew I had to share your journal with my siblings too."

"As a palliative care provider, this grief journal can help our team provide bereavement care and counseling to the loved ones left behind by our patients. Thankful also that the brains behind this journal packed it with love and in a pretty environment friendly package."